Maps and Photos
Introduction:
When a road is being built, experts and professionals produce and consult many maps to help develop and plan the exact location. Below, you will find various forms of maps that were created and used to aid in the construction of I-581, as well as maps that depict areas of Roanoke and I-581, both past and present.
Planning, Construction, and Official VDOT Maps:
Rather than being built all at once, I-581 was built in different sections throughout the years. For each section that was added to the interstate spur, there were planning and construction maps created. Below are some of these maps from the 1960s, when a majority of the interstate was built.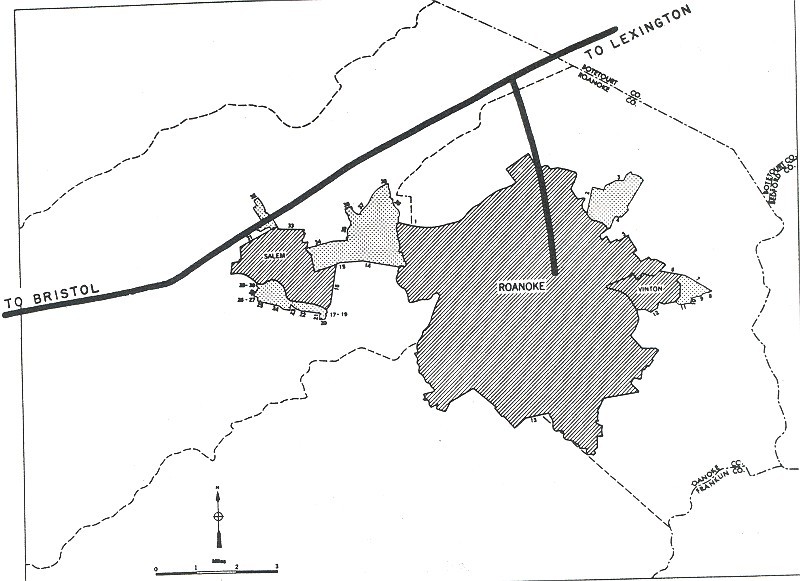 Yellow Book scan from 1955 which shows the location of the proposed interstate.
Construction map from 1963. The section shown connects I-81 to 460.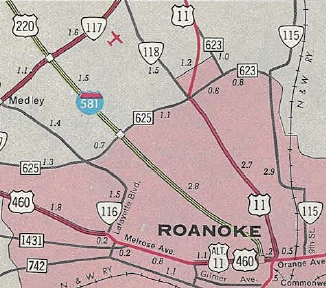 Official map of finished section (connecting 460 to Orange Ave) of I-581 from 1966.
A construction map from 1967 for a portion of I-581 (southern section).
Sanborn Maps:
Insurance companies used Sanborn Maps. These maps' main purpose was to determine and evaluate the risk of fire within each building depicted. If certain buildings also contained equipment (such as machinery) that may be hazardous or cause a higher risk of fire, they were also included in these maps.
Each collection of Sanborn maps will provide a key specifically for that set of maps. It can be found on the first page, last page, or at the very beginning page of the collection. It may look similar to the one below, or it may be a very general key to help indicate what each color identifies and what materials were used in each building.
Key for the Sanborn Maps (Found Here)
Sanborn Map of Roanoke from 1907 (Found here)
The key on the left-hand bottom corner of the map above details what the colors mean. The link provided in the description will take you to the Library of Congress' website, where you may zoom in and learn more about Sanborn maps. More Sanborn maps that show closer up areas of Roanoke can be found in the collections section (link here).
Other Maps:
"Interstate and Defense Highways" from June 1958 (Found here)
Flood Plain inundation map of the Roanoke River from 1968 (Found here)
Photos:
From 1907, a birds-eye view of Roanoke (Found here).
From 1915, a birds-eye view of Roanoke (Found here).
We conclude our work with some data and reflections on economics and population here.
Sources
"About This Collection: Sanborn Maps." The Library of Congress. Accessed December 03, 2020. https://www.loc.gov/collections/sanborn-maps/about-this-collection/.
"Interstate 581 Virginia." AA Roads Interstate Guides. January 29, 2019. https://www.interstate-guide.com/i-581-va/.
Page written by Caitlin Crenshaw.
Edited by Jonathan LLoyd